myWorks, your Portfolio on the iPhone – AppStore Promo Codes
iPad • iPhone
For the announcement of the publication of myWorks for iPhone on the AppStore, I'll offer you 10 promocodes to download and use myWorks for free.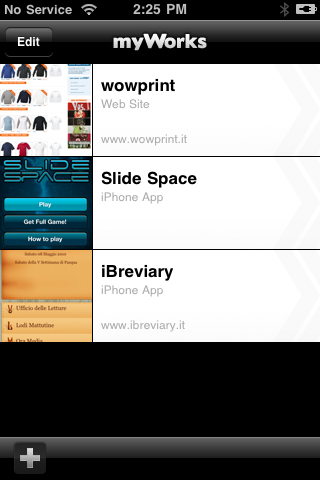 myWorks is a useful application to manage your portfolio.
With myWorks you have your project portfolio ever with you. You can show your projects to you colleagues or show in a job interview.
FEATURES:
– Manage your portfolio.
– Each project can have some screen grabs of the website.
– Each project can have some images picked from the PhotoAlbum.
– Projects can have a genre: Web Site, Mobile Site, Web Application, iPhone Application, iPhone Web Application, Software Application, Pictures, Paintings.
– You can Share projects via Facebook.
– You can send projects via email with images.
PROMO CODES:
4NYPRREHY9E6
NYEKA34A39FF
XJKMRJNYHJ9K
4LRYM4K6AHE3
WM9TEJY9WTHL
F6M6PEXNLNEN
KYLTPH34LFRJ
6EERLXEJPYE7
MTPXKXFN9KE9
3J97XRH43HAF
NB: Please can you comment the post writing the promocode used? This will help me and you :-)
Thanks!